It has been said that the entrepreneurial spirit, at it's most basic level, is generous. The people who have built truly great companies have done so not for the money but for the vision. While scholars and paupers will forever question the motives of great figures and their visions, the fact remains that they build in order to create something greater within their world view. Research far enough and you'll find this to be as true for Apple and Google as it was for Enron or Bernie Madoff. They all built their success on the supposition that they were making the world a better place, some just got lost along the way.
The difference between greatness and collapse, in the end, came down to who held onto vs. lost sight of their greater purpose. A sense of empathy with the entire commercial ecosystem is crucial to maintaining a balance between short term gains and long term goals. Business Empathy is one of the three philosophical cornerstones upon which Mojo Creator is built.
Empathy Within the Three Unbundled Businesses
John Hagel and Marc Singer coined the belief that companies usually follow one of three very different economic, competitive, and cultural models. Having a secondary focus is not uncommon but it does require serious compromises. Except in the case of old-world corporations or fully integrated business models, a company will have one of the following focuses: 
The customer relationship business
The product innovation business
The infrastructure business
Understanding which type of business your company represents helps you and all of your partners best understand how you fit within the ecosystem.
In the customer relationship business, there is a high cost of customer acquisition that makes it important to gain a large wallet share.  In the battle for scope, a company must focus on the needs of that customer base through the formation of deep personal relationships. Customer service takes the form of trust agents, who function as the conscience of the company. Industries that come to mind include marketing/advertising agencies, investment advisers, and news services to name a few.
In the product innovation business, the focus is on first mover advantages and the ability to charge premium prices for what is often expensive research & development. Creative and engineering stars are praised, coddled, and encouraged to do their most brilliant work. In this type of enterprise, business empathy needs to focus on inspiring employees to create better products/services and handsomely rewarding them when they do. A few examples of product innovation companies include Google, Zynga, and Facebook.
In the infrastructure management business, high fixed costs make it essential to produce a maximum quantity of standardized products in order to achieve low per-unit costs. Empathy in this environment stresses predictability and reliability. People who buy things like toilets, trash cans, or even iPads want a consistent experience and a product they can count on. It has been said of Apple that after all of the design is said and done their magic is based on being able to fit 80% of the experience into 20% of the interface; thus creating an easy to understand product with a consistent user experience across all levels. Empathy is employed in order to understand what is most important to a customer vs what would be nice and can be left out. Examples of infrastructure management businesses include car companies, household goods companies, and to a certain extent – any corporation that mass-produces its products.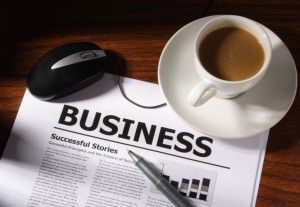 The focus on infrastructure in major corporations creates compromises in the other two business areas, which is why small companies frequently have an edge when competing within their own niche against a much wealthier competitor. By understanding what type of business you are and applying empathy to the right area, your competitive rewards can be dramatically increased.
Why We Want You to Understand Business Empathy
Mostly, we want to make sure you are empathizing with the right part of your business ecosystem. If you are in the customer relationship business, the social media and search marketing links are obvious but the breadth of the task is both vast and confusing. If you are in product innovation, harnessing your empathy as a way of crowd-sourcing new ideas is a little less clear. Whatever your business model, focus, or ROI stream looks like; we want to ensure that your company is always engaging the right community.
While we don't intend to tell you how to run your business, we think it is important that you understand our own business philosophy if you are going to work with us. Our philosophy has everything to do with how we engage your customer base.
Mojo Creator is, effectively, a customer relationship management business with a dash of product innovation (as is required for anyone in a high-tech industry). Perhaps, by understanding this, we can offer better empathy as two businesses in the same ecosystem.
Business Empathy Recommended Reading: