In March, Google's Webspam gladiator Matt Cutts' announced a new Penguin Algorithm Update was on the horizon. This spurred a wave of supposition about when the next Penguin Algorithm Update would actually occur. Speculation hit a fever pitch last week with MozCast reporting two days of extreme volatility in the search rankings, and Barry Schwartz' report detailing the ongoing debate taking place on the webmaster world forums.
Penguin Algorithm Update: Are You Ready?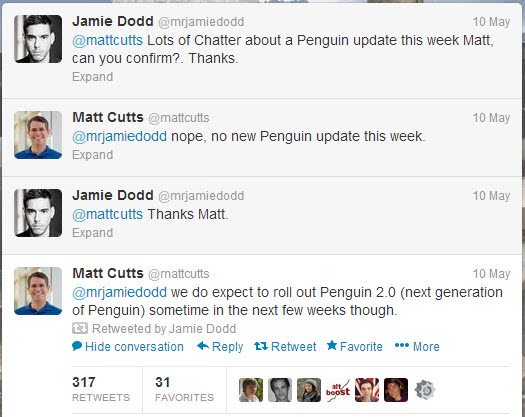 This past weekend Cutts responded directly on Twitter to timetable questions about the pending Penguin Algorithm Update. And while his answer was "Nope", that doesn't mean he is being completely honest.
He has previously discussed the process of Google Algorithm Updates on his YouTube video blog. There he spoke about the testing process surrounding a Google Algorithm Update. He described the algorithm change introduction as moving from an internal ecosystem on the local Google Campus, to a broader test of limited search queries and finally to a formal release of the Update across the entire search engine.
These initial reports of volatility, might in fact mean that the testing phase of the new Penguin Algorithm Update has moved beyond the Google campus and is nearing a formal release. In fact, this could be assumed based on Cutts' second reply "sometime in the next few weeks."
Penguin Algorithm Update: Importance of Testing
The effects of the Penguin Algorithm Update will certainly reshape the results displayed on the first page for many major Google keyword queries. This will have 'make or break' consequences for many companies doing business online. With the stakes this high, it should be reassuring that Google is taking their time with the change, which will hopefully result in avoiding punishment for honest, white hat websites.