More details have emerged related to Microsoft's $1.2 Billion purchase of Enterprise Social Network Yammer. Since the purchase last summer, Yammer has demonstrated the ability to grow. Sales have increased 259% year-over-year, marked by 312 new customers and their best user engagement statistics ever for the month of March 2013.
Office 365 and Yammer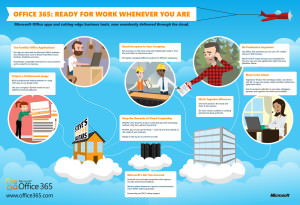 Microsoft commented on the progress of the Yammer acquisition yesterday on their blog:
"While we are pleased with the growth, the opportunity for enterprise social is even larger. Yammer and Microsoft have come together with a single vision – to bring enterprise social to all businesses by weaving these capabilities into the apps people use every day. Realizing this vision requires close alignment in product development, sales and marketing.
On the engineering side, we've made great strides in a short timeframe, bringing together Office 365 and Yammer teams to deliver regular updates against our roadmap. Right now our teams are actively focused on foundational work around identity, content and messaging that will drive seamless connected experiences across Office 365 and other applications. We look forward to sharing more exciting developments soon.
The next area of focus is aligning the Yammer and Office 365 go-to-market efforts. On March 1, we began offering Office 365 and Yammer together as part of Enterprise Agreements. We will further simplify the customer buying experience and increase global scale by fully integrating our sales teams this summer. We're going from about a hundred sellers at Yammer to several thousand Microsoft sellers around the world bringing customers the benefits of enterprise social.
The reaction from customers has been overwhelmingly positive. They are excited about the transformational potential of enterprise social and recognize the combined value of Office 365 and Yammer. Just one example we recently announced is ABB, a power and automation technology leader using Office 365 and Yammer to provide a single platform for productivity, communication, collaboration and enterprise social in the cloud for 145,000 employees across 100 countries."
Office 365 and Yammer: Identity Emerges as Core Focus
Alex Williams of Techcruch.com wrote about what the alignment of Office 365 and Yammer means to the industry:
"The news follows the road map that Microsoft set at its SharePoint Conference last November. In March, Microsoft detailed the transition and how Yammer will co-exist with Office 365 and Sharepoint.
It makes sense that identity is one of the core focus areas for Microsoft. It's going to be critical to have universal identity in order for these systems to talk to each other and for IT to control access and permissions.
Identity is emerging as a core theme coming from Microsoft. Last month, the company announced the support of Active Directory in Windows Azure. Customers may also use their Microsoft account to log in to Windows Azure.
In the meantime, companies like Box are firing shots across Microsoft's bow. Today the company bought Crocodoc, an HTML5 service for embedding docs. It's a clear sign of the aggressive moves that are sure to come as the enterprise social networking space becomes increasingly competitive."