Social media marketing campaigns are typically centered around gaining fans, followers or even likes for a brand. These are synonymous with engagement. But, what ROI does this engagement actually bring to a brand? Recent research conducted by Syncapse has moved to provide answers to this and other related questions.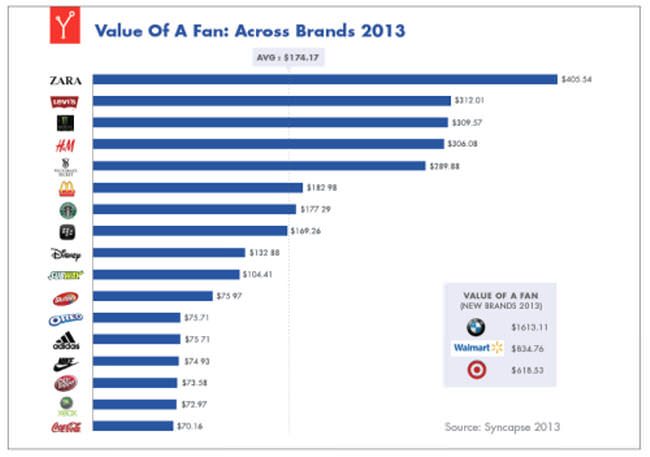 Facebook Fan: Syncapse Social Media Audience Research
Syncapse is a technology-enabled services company that uses social media data to achieve smarter marketing for the world's most valuable brands. They calculated Facebook Fan value in their survey by examining 6 important factors:
Product Spending – The difference in spending habits on each brand within a category

Loyality – The consumer intention to keep purchasing the brand in the future
Propensity to Recommend – Probability and propensity for word-of-mouth recommendations to lead to future sales
Media Value – Efficiencies of earned reach and frequency via the Facebook platform
Acquisition Cost – Efficiency of Fans in enticing others to participate and drive organic membership
Brand Affinity – The perceived personality or the emotional draw felt by Fans toward their brands
Syncapse explains the need to analyze audience relationship management, stating:
"Facebook brand pages and promotions continue to blossom, despite an ongoing struggle to understand Facebook Fan impact. To understand, benchmark and improve long-term business value of Facebook investments, marketers must understand the measureable differences between users who have 'liked' or Fanned a brand versus those who have not. Value is reflected not simply by the action of being a Fan, but by the added value of Fan spend and other key values.
Identifying differences in behaviors and motivation between Fans and non-Fans is key to understanding the value of a Facebook Fan to a brand. Syncapse has identified and isolated these factors, and has associated them with key factors that drive shareholder value. These factors are widely identified as fundamental to both short-term and long-term sales performance and have been tested across multiple organizations to confirm their importance."
Facebook Fan Value: Key Findings
The study places the average value of a Facebook Fan at $174. Brands with smaller retail prices or products that have a frequent repeat purchase cycle have comparatively smaller Fan values. Categories with higher retail prices, or higher category purchases, have higher Facebook Fan values.
Syncapse suggests this means "Lower-priced and transactional product categories with frequent purchase cycles often depend on higher reach and frequency of messaging. While average Facebook Fan value is lower for such categories, high Fan memberships represent important opportunities for maintaining everyday presence at scale, sensing user needs and wants, and introducing relevant triggers to buy."
Additional Findings
The report draws other research conclusions as to value of these Facebook Fan findings. They include:
Brand Fans are super customers – Fans behave in a much more active way than non Fans.

Fans spend more than non-Fans – They find this to be especially true in clothing and fashion categories.
Fans advocate more – They are more likely to help spread your message with word-of-mouth recommendations.
Brands with high equity or longevity in the marketplace have lower Facebook Fan value.
Brands with polarized profiles tend to have higher value Fans.
Fans tend to be brand users before they 'Like' a brand's Facebook Page.
Personal expression trumps coupons as reason for becoming a brand's Facebook Fan
Skepticism about Facebook Fan Value
As always, the internet has greeted the findings with skepticism. Since Syncapse is in the business of promoting their clients through social media channels, they do stand to benefit from representing a Facebook Fan as valuable. One internet user commented: "Interesting metric. Makes me wonder what's driving the value. Do brand loyalists become fans because they were already loyal? Or does becoming a fan drive a person to become brand loyal?"
Like any other study, people must judge for themselves if data and conclusions are relevant. To learn more, read the study (located here) for yourself and decide for yourself the value of a Facebook Fan.